Pipe Dreams and Beyond
January 2020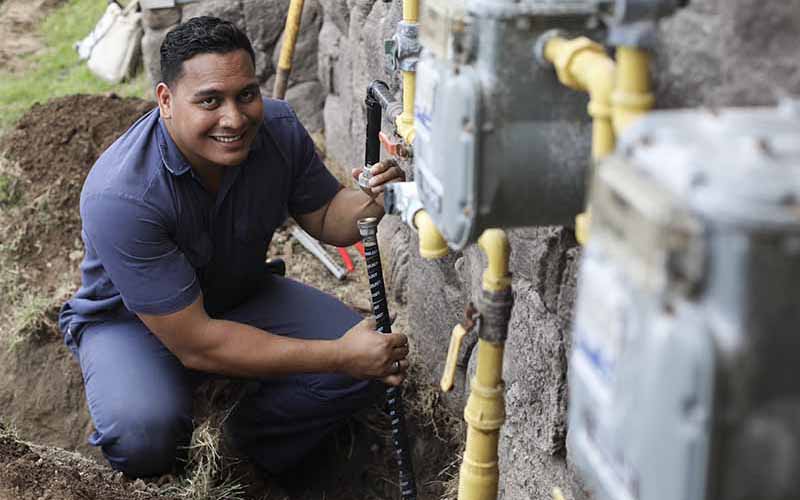 Joyze Mema'ofa (Ofa) came to BYU–Hawaii as a plumber with a plan: add a business degree to his trade skills, then start his own plumbing business. It was a good plan—one that could help him better serve his people. However, Ofa has met three mentors who not only encourage him to think "outside the pipes" but have also opened doors for him to pursue greater ambitions.
Ofa is from Rotuma, a small group of islands located more than 300 miles north of Fiji, or three days by boat. Rotuma is governed by chiefs who keep their traditions and culture intact, so the islands have remained undeveloped. "Everyone still lives off the land like back in the days," says Ofa. "It's off the grid, so people collect rain water and dig wells for water, some people have generators for electricity, and we only have a few trucks on the island."
Ofa attended high school at the Fiji LDS Church College and later served in the Fiji Suva Mission of The Church of Jesus Christ of Latter-day Saints. During his mission he received special permission from the Area Presidency to serve as branch president on his home island in Rotuma for over a year.
After his mission Ofa attended the Fiji National University trade school and become a certified plumber. His ultimate goal is to help his people develop Rotuma with sustainable projects that respect and maintain the culture of his ancestors. "I want to improve the infrastructure with sustainable electricity, clean water, and sanitary waste disposal so it can be an eco-friendly island," he explains.
While working as a plumber in Fiji, Ofa determined to start his own company, but he struggled with the operational side of business. So he ventured far from home to study business at BYU–Hawaii.
Ofa came to BYU–Hawaii through the donor-funded IWORK program, which means he works part-time to help pay for his education. "I love working and going to school at the same time," he says. "It really enhances my knowledge and skills so that one day I can start my own business."
Ofa worked at the Polynesian Cultural Center doing what he knows best: plumbing. Soon PCC's vice president of facilities management, Jerome Uluave, noticed Ofa's potential and took him on as a protégé.
"Jerome is really guiding me along my career path," says Ofa. "My original plan was to start a plumbing business, but he encouraged me to go beyond that and introduced me to project management. My plans were just a fraction of what he opened up to me."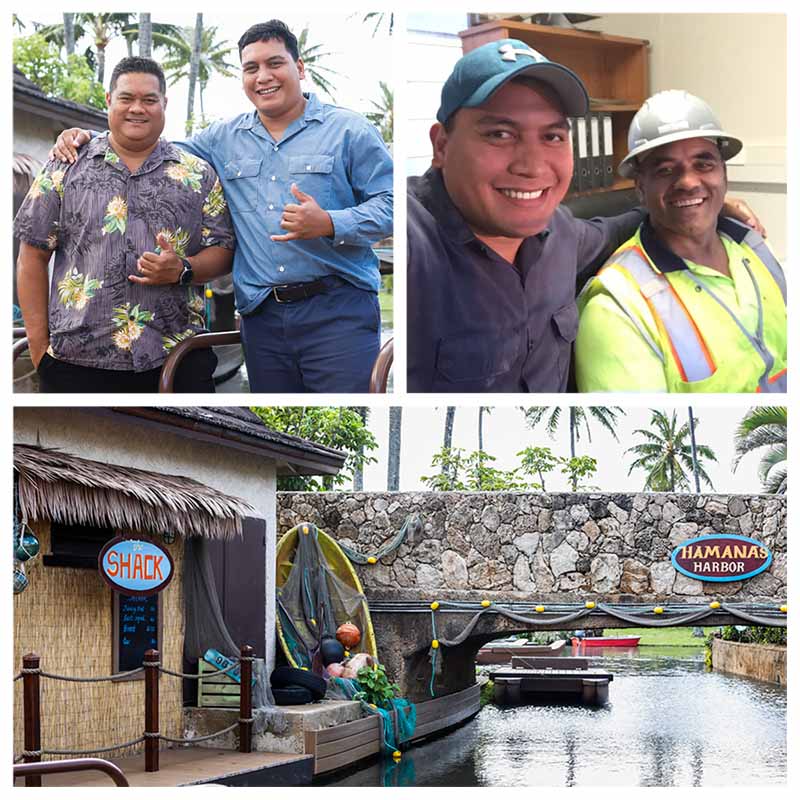 Ofa worked as a plumber at the Polynesian Cultural Center until the center's VP of facilities management, Jerome Uluave (top left), recognized Ofa's potential and trained him in project management. One of the projects that Ofa helped with was PCC's new canoe landing (bottom). Ofa later found another mentor in Taane Lasike (top right) while working on the renovation of the Hamilton New Zealand Temple.
Under Jerome's mentorship, Ofa began splitting his time between plumbing and project management. Through that line of work, Ofa was introduced to his second mentor: Gary Stringham, a manager from the Church's Special Projects Department (SPD).
Gary and Ofa talked about the Church's effort to blanket the world with small temples, especially in isolated areas, and Gary suggested that Ofa could be most helpful in that cause if he continued his education with a master's degree. Their conversation then turned to internship opportunities with SPD that would further develop Ofa's project management skills. There were projects at BYU–Hawaii that Ofa could have been assigned to, but Ofa expressed interest in working in the South Pacific where he could gain experience that would be most relevant to his future plans. Gary responded by referring Ofa to Westland Construction for a five-month internship on the renovation of the Hamilton New Zealand Temple.
"My internship was beautiful because my family was sealed in the Hamilton New Zealand Temple," says Ofa. "It was a treasured blessing to work on the Lord's house, and my perspective on construction projects enlarged."
Perhaps the best part of Ofa's internship was meeting his third mentor, Taane Lasike. Taane is a Tongan who grew up New Zealand and spent the last seven years overseeing construction projects in Kiribati, Palau, Micronesia, and other island nations, and he will be overseeing the construction of the Auckland New Zealand Temple beginning in 2020. "He's got a lot of experience with construction projects in the islands," says Ofa. "I learned the basic steps of construction management while working on the old visitors center for the Hamilton Temple."
On his last Sunday in New Zealand, Ofa was invited to speak in the sacrament meeting of a nearby ward. There he met two department heads at the University of Waikato in New Zealand, where Ofa plans to apply to a master's program in sustainability management once he graduates from BYU–Hawaii in June 2020.
"One thing has led to another," says Ofa. "And all along the way I have been inspired by Uluave, Stringham, and Lasike to do more than what I have done. They have really influenced my perspective beyond what I thought I was capable of. And I am grateful for the donors who fund the IWORK program. They made my education possible and really changed my life."
With all his newfound capacity and aspirations, Ofa has not forgotten his original goal: to help the people of Fiji and Rotuma. "My goals have been magnified," he says. "I am now in a better position to serve my people and others. I want to employ youth and young adults preparing for missions and returning from missions. I feel that those are crucial days for young people. I want to strengthen them and work with them in building the Church in the Pacific."
Back on the home front, Ofa wants to be part of an upcoming project to build Rotuma's first meetinghouse. "It would be a great foundation for developing the island, both physically and spiritually," he says. "The population of Rotuma is about 2,000, and I plan to baptize everyone before I leave this world." And given Ofa's sincerity and determination, it's easy to believe that he will.
Make a Gift