GPC Conference 2023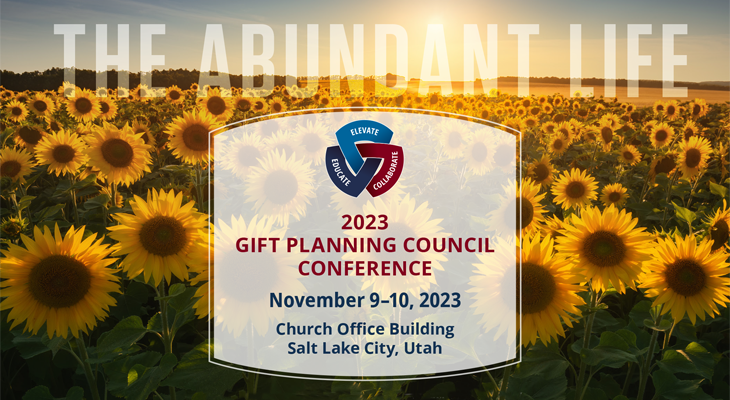 This year's Gift Planning Council Conference will be held on November 9-10, 2023, at the Church Office Building in Salt Lake City.
We are excited to announce some of the speakers for our fall conference. More information about speakers and presentations will continue to be added.
A member of the Quorum of the Twelve Apostles for The Church of Jesus Christ of Latter-day Saints (name will be announced as we get closer to the conference)
A senior leader for The Church of Jesus Christ of Latter-day Saints (name will be announced later)
President Brian K. Ashton, BYU-Pathway Worldwide

Matt Eyring, BYU-Pathway Worldwide Vice President of Field Operations

President C. Shane Reese, Brigham Young University
Keith Vorkink, BYU Advancement Vice President
Tanise Chung-Hoon, Managing Director, Philanthropies
Judge Thomas Griffith, retired judge on the U.S. Court of Appeals for the D.C. Circuit and current Wheatley Institute Fellow
Dan Heist, Assistant Professor, Romney Institute of Public Service and Ethics, BYU Marriott School of Business, and Rebecca Richards, BYU MPA candidate
Former GPC chair panel: Stan Leavitt, Carol Warnick, Todd Hallock, and Paul Comstock
Ethics Panel: David Grant, Stephen Radmall, and Diana George
Charitable Conversations with Clients Panel: Marianne Ludlow, Robert Packard, and Gerilyn Merrill
Charitable Planning with Retirement Accounts: Doug Bohne and Kevin Holt
Jason C. Petersen, Tax Account Leader and Global Client Service Partner, Ernst and Young
If you or a colleague wishes to be added to our correspondence list for the conference, please fill out this form or email us.

Contact Us
For a detailed discussion of the services we provide you and your advisors, please contact us at 1-877-650-5377 or by email.