Church History
Thank you for your interest in supporting Church History activities. We are grateful for your continued faithfulness and generosity. The Church has changed its fundraising policies and now accepts donations for three funds:
Humanitarian Aid Fund
General Missionary Fund
Church General Fund
Church History activities and projects, including restoring and maintaining sacred sites, will be addressed through the Church General Fund. This change allows you to contribute funds that will be used to meet ever-changing needs while being guided by prophetic direction. Thank you for continuing to seek and do good.
Your Donations at Work
The historic sites of The Church of Jesus Christ of Latter-day Saints preserve the memory of sacred events and places to ensure our connection with God now and in the future. When visitors authentically experience heritage, their hearts and minds are more receptive to the site's spiritual message.
In 2021, the historic sites of The Church of Jesus Christ of Latter-day Saints welcomed almost 1 million visitors.
About half of those people experienced the sites virtually, visiting from more than 60 countries.
"Let us not only remember the past and its required sacrifice; let us also remember that we are responsible to build a legacy for the generations which follow us."
- Thomas S. Monson
Give to Church History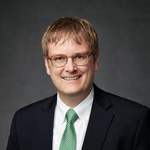 A Note from Matt Grow
Managing Director, Church History Department
I recently finished reviewing a densely packed binder with 488 pages of small type, the draft of the last volume of The Joseph Smith Papers. It was a bittersweet experience. Covering Joseph's final six weeks, the volume illuminates that tumultuous era that led to the tragedy at Carthage.
The experience was bittersweet not only because I was reading about Joseph's final days but also because I have spent much of the past decade working with the Prophet's papers. I have worked with tremendous colleagues who have, with exacting professional standards and personal faithfulness, published more than two dozen volumes. The book that I just reviewed, Documents, Volume 15, will be published in spring 2023.
The Joseph Smith Papers, though intended for scholars, has influenced more than just the academic world. Its findings are reflected in changes in almost 80 section headings in the Doctrine and Covenants (2013). It is the foundation for volume 1 of the Church's new published history, Saints. The project's website is well integrated into the 2021 Come, Follow Me curriculum.
The Joseph Smith Papers has blessed the Church and helped "millions [to] know Brother Joseph again." This all has been possible through the generosity of the Larry H. and Gail Miller Family Foundation. The Millers' philanthropy has enabled the Church to move forward with this monumental project.
I wish each of you the best as you consider how you can bless the Church and the world with your own philanthropy.
How Are the Donations Used?
The Church General Fund is a financial resource for approved projects of The Church of Jesus Christ of Latter-day Saints. This central fund has been established to provide a reliable and recognized channel for focusing funds on high-priority projects approved by prophets and apostles and other Church leaders. While there will be many projects and initiatives, donors will contribute to one fund. Authorized Church leaders will draw on that fund and allocate resources based on planned priorities and emerging needs.
Stories
See what the Church History department is doing.