Church History
Donations to the Church General Fund may be used to support Church History activities and projects involving the Church History Museum, Church History Library, and Church History sites across the country. This can include supporting new exhibits and programs, digitizing resources, and restoring and maintaining sacred sites to preserve and share Church History in different ways.
"Let us not only remember the past and its required sacrifice; let us also remember that we are responsible to build a legacy for the generations which follow us."
- Thomas S. Monson
Give to Church History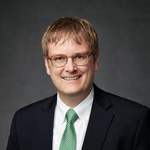 A Note from Matt Grow
Managing Director, Church History Department
The year 2022 marked the 175th anniversary of the arrival of the first Latter-day Saint pioneers in the Salt Lake Valley. Few events in our history are more epic or more inspiring. Several Church historic sites tell this amazing story: from Nauvoo, where the Saints began their exodus; to Winter Quarters and Kanesville, where they prepared for the trek; to the Wyoming Mormon Trail Site, where some Saints faced incredible challenges; to Temple Square, where Brigham Young declared soon after his arrival that the Saints would build a temple.
These sites testify that with the help of God, ordinary people can do extraordinary things to establish the kingdom of God on the earth. Thank you for all you do to ensure that these sites will continue to testify for generations to come.
Stories
See what the Church History department is doing.